(Surplus People old homepage and arkiv 2003-2011)
NEWS – ABOUT – MUSIC – PHOTO– GIGS – SUR+ – CONTACT– HOME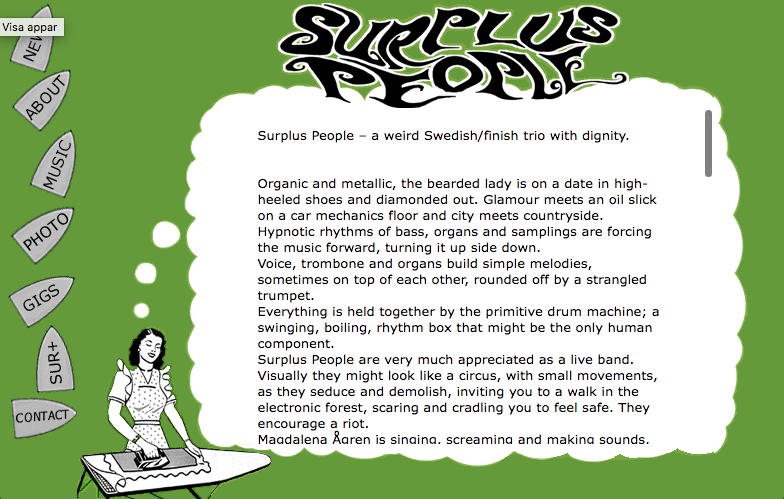 Surplus People – a weird Swedish/finish trio with dignity.

Organic and metallic, the bearded lady is on a date in high-heeled shoes and diamonded out. Glamour meets an oil slick on a car mechanics floor and city meets countryside.
Hypnotic rhythms of bass, organs and samplings are forcing the music forward, turning it up side down.
Voice, trombone and organs build simple melodies, sometimes on top of each other, rounded off by a strangled
trumpet.
Everything is held together by the primitive drum machine; a swinging, boiling, rhythm box that might be the only human component.
Surplus People are very much appreciated as a live band. Visually they might look like a circus, with small movements, as they seduce and demolish, inviting you to a walk in the electronic forest, scaring and cradling you to feel safe. They encourage a riot.
Magdalena Ågren is singing, screaming and making sounds, sometimes in a megaphone, trumpet or trombone.
Petra Kiiskinen makes noise and melodies on one or another old organ.
Helena Engarås is playing with the bass, sometimes a madly distorted bass.

. . . . . . . . . . . .
Surplus People – En Svensk/Finsk knastrio med värdighet.
Organiskt och metalliskt, Skäggiga damen möter högklackat och diamanter. Glamour möter bilverkstad och stad möter land.
Hypnotiska, monotona rytmer av bas, orglar och samplingar driver musiken framåt och skakar om i sina vridningar.
Sång, trombone och orgel bildar enkla melodier som ibland läggs på varandra och kan avrundas av en strypt trumpet. Allt hålls ihop av den primitiva trummaskinen, en svängigt puttrande rytmbox som kanske är den enda i trion som är mänsklig.
Surplus People är ett uppskattat liveband.
Visuellt kan det likna en cirkus, fast med små rörelser.
De förför och förgör, tar dig till elektroniska skogen, skrämmer och vaggar i trygghet. Manar till upplopp.
Magdalena Ågren sjunger, skriker och låter. Ibland i megafon, trumpet eller trombone.
Petra Kiiskinen gör brus, melodier på en och annan gammal orgel.
Helena Engarås spelar bas, Ibland tokdistad brus bas.
Bandet är baserat i både Stockholm och Göteborg och har funnits sen 2001

. . . . . . . . . . . .

Said about Surplus People:
WE LOVE IT! This is trombone/organ/bass/megaphone feminiART epiphany! The samples along with the repetative keyboard that hold only one note makes the Surplus People girls music almost hypnotic or throws you into a punk trance.
-http://www.babesinboyland.info

Ett av de roligaste uppträdanden jag sett på länge. Liveupplevelsen närmast chockartad. Det är svårt att förklara. Men de känns helt unika.
-http://www.metica.se


Känns som om jag sovit i gullfiber…
-Sue Indierockpunkmetalzine

Med et uhæmmet og hyperenergisk udtryk skabt af et mildest sagt alternativt instrumentvalg, idet der i koncerten indgik alt fra trækbasun til megafon, ja, så fik Surplus People sparket en fest i gang i publikummet foran scenen og bevist, hvad de kunne.
-http://www.gaffa.dk

I dont understand nothing… but Im happy.
-En glad konsertbesökare i Finland.
GÖTEBORGS POSTEN REVIEW AND INTERVJU