Utbildningar:
2000-2003: scenografi fil. kand. Akademi for Scenekunst, Högskolan I Östfold,
1998-1999: Teaterlinje, Nordiska Folkhögskolan, Kungälv
1997: Scenografi utb, Projekthögskolan för Tv produktion.
1996-1997: Dramatik 40p, Göteborgs Universitet
1993-1995: Bild och form linje, Lunnevads Folkhögskola
Här kommer en beskrivning av fyra projekt jag jobbar med MAG, SORK, TRAPPED IN A LOOP och TRAPPER –> MAGTRONICS.
Efter det följer en redovisning över min artistiska verksamhet sedan 2008.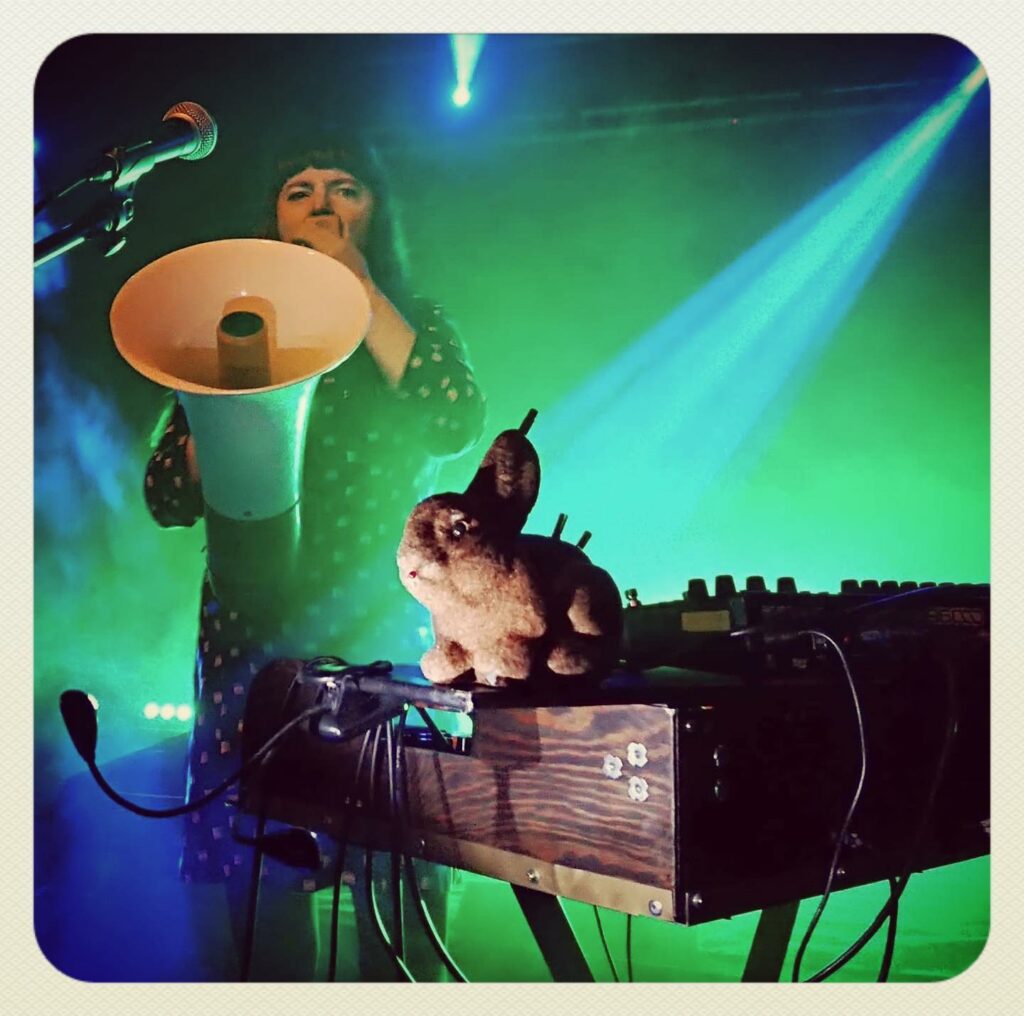 MAG är Magdalena Ågrens soloföreställning. MAG gör musik av trombon, trummaskin, megafon, sång och hembyggda elektroniska instrument och loopar. Musiken byggs upp från det minsta elementet och växer till en gigantisk dystopisk lo-fi orkester, som ibland är tillbakahållen och suggestiv, ibland kaotisk och vild. Ett mörkt men vackert improviserat ljudlandskap skapas och bygger upp en värld med hjälp av otraditionella medel. Det är en punkig pop attack direkt ut från hjärtat. Diskografi: Magnitude 12″ LP och CD Zeon Light Skiva/Surplus Recordings 2016
Hemsida: https://magagren.com
Musik: https://soundcloud.com/magdalena-agren/sets/en-fis-i-rymden/s-0ElQPQMFPGk
Livevideo:https://magagren.com/video-2/
SORK
Är en högenergisk dansant noiseattack där kompromisslösa, tunga trummor, öronbändande samplingar, hypnotisk fuzzgrooves bas, sång, trombon och megafon och leksaksinstrumentet stylofone, förgylls med suggestiv orgel och synt. Musik som glöder i en intensiv avantgarde-disko. Sork består av Magdalena Ågren, Pontus Torstensson, Petrus Fredestad och Helena Engarås.
Diskografi: JA JA 7″ vinyl De:nihl Records 2017, Horseflies Flies 12″ LP och CD Kapitän Platte 2014, SORK/Surplus People 12″ splitt LP, Surplus Recordings 2009
Hemsida: https://sorksweden.com
Musik: https://soundcloud.com/magdalena-agren/sork-ja-ja
Video: https://sorksweden.com/video/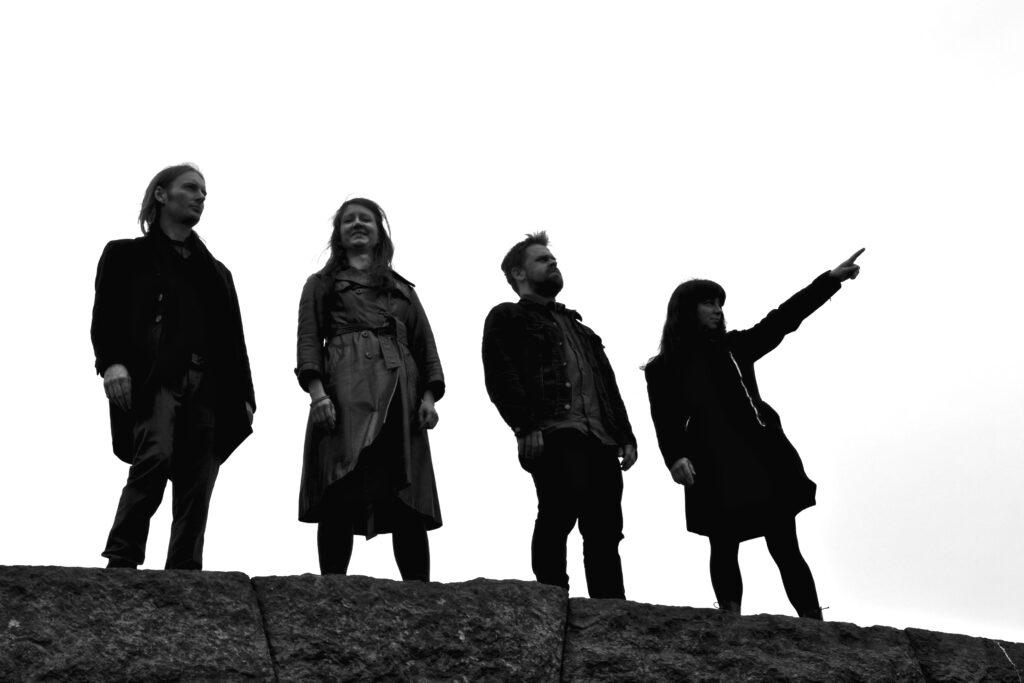 TRAPPED IN A LOOP
Är en experimentell pop musik‐duo med ljudkonstnär och nymedia designern Richard Widerberg och Magdalena Ågren. Musik är en lekfull kombination av akustiska och elektroniska instrument. Med hjälp av framförallt trombon, gitarr, röst, fältinspelningar och elektroniska ljud skapas kantiga men enkla hitlåtar som svänger. Discogs: TRUE STORY Ep, Vips & Vaps/Surplus Recordings 2020, Echo/Joinus 10" vinyl, Aanen Lumo 2010
Hemsida: http://surplusrecordings.se/artists/trappedinaloop/
Musik: https://surplusrecordings.bandcamp.com/album/true-story
TRAPPER –> MAGTRONICS
Projektet Trapper är ett långtgående samarbete med den japanska textil- och interaktionsdesignern Mika Satomi. Projektet går ut på att utveckla ett musikinstrument med så kallade smarta textilier i form av klädesplagg som det genom rörelse går att spela med. Tekniken kring de smarta textilierna är i forskningens framkant och består av tråd som känner av rörelse. Rörelsen registreras elektronisk och  används sedan för att kontrollera olika elektroniska instrument. Syftet med projektet är att experimentera med nya sätt att framföra musik på och möjlighet att skapa en scenisk performance med spännande element mellan rörelse och instrument. Projektet TRAPPER utgick från att göra en scenkostym och instrument till Trapped in Loops framtädande och har fortsatt att utvecklas för att kunna fungera även till MAGs solospelningar men då går det under projektnamnet MAGTRONICS
Följ vår arbetsprocess på vår blogg:
MAGTRONICS – you shouldn't have done that…. (nerding.at)
VERKSAMHET mellan 2020-2008
2020
Året började med en liten turneé med mitt soloprojekt MAG på fem spelningar. Två i Sverige och tre i Danmark där jag bl a var förband åt bandet Beak med medlemmar från Portishead och Massive attack.

I början av Mars släppte TRAPPED IN A LOOP en Ep på Vips & Vaps tillsammans med Surplus Recordings och sen slog coronan till. Resten av året blev allt jag planerat in inställt. Jag hade bl a ett residens inplanerat på Ljudmila i Ljubljana på en månad. Med stöd från Konstnärsnämnden och Slovenska kulturföreningen Project AToL för ny media och konst. Detta blev inställt två gånger pga corona. Först i April och sedan i November.

Under sommaren hade jag en inplanerad turné i Finland med utgångspunkt från att spela på festivalen UUSI TAMPERE.
Jag hade även planerat en två veckors resa till Antwerpen i september. Där jag blivit inbjuden till residens av Rotakt Records för att göra ett samarbete med Belgiska musikern Saar van de Leest och i samband med det göra några spelningar ihop. Detta blev också inställt.

Förutom en digital spelning med mitt band SORK så har jag endast lyckats göra två MAG spelningar efter corona restriktionerna med max 50 i publiken. Den ena på Frigjort festival på Loppen i Köpenhamn och den andra på klubb Vålmen samlingsutställning Time to Indulge i Göteborg. Däremellan har jag försökt att lägga mer tid på inspelning och att ta andra strö jobb för att få in mera pengar.
I December lyckades vi genomföra ett internationellt utbyte med Mika Satomi (Japan/Berlin) i ett hus på landet utanför Göteborg där vi arbetat intensivt med projektet MAGTRONIC (beskrivet ovan).

Antal spelningar: 10 st
7/1- SE, Göteborg, ICIA, facebook.com/events/2727227407340020 (SORK)
30/1-SE, Göteborg @ Fg2 (MAG)
31/1- DK, Odense @ @RØDE HIMMEL (MAG)
1/2- Dk , Aalborg @ Northern Winter Beat (MAG)
2/2- Dk, Copenhagen @ Loppen, (Opening act for Beak) (MAG)
4/2- SE, Jönköping @ Scenen Sofiehof Underjord"facebookevent"(MAG)
7/3- SE, Gothenburg @ 24 kvm facebookevent (TRAPPED IN A LOOP)
20/5- SE Göteborg @ klubb baracuda Onlineevenemang, (SORK)
5/9 – DK, Copenhagen @ Loppen Frigjort festival presenterar (MAG)
17/10- SE, Gothenburg, klubb Vålmen @ Skjul Fyra Sex "facebookevent" (MAG)
2019
Två Europa turnéer som MAG till ( Danmark, Tyskland, Italien, Frankrike, Österrike, Belgien) med turneéstöd från Konstnärsnämnden. Samt en veckas samarbete i Slovenien med den japanska textil- och interaktionsdesignern Mika Satomi. Inspelning av en singel med Trapped in a loop och en singel med Sork.

Antal spelningar: 34 st
Mars 1 – ZÜRICH,@ Wunderkammer https://www.facebook.com/events/264296074462883/
Mars 2 – BRESCIA, IT, @ Spazio Arte Duina
URL: http://www.spazioarteduina.it
Mars 3 – LIDO ADRIANO, IT, @ CISIM (Brunch festival)
(with Gigaldi , Manifesto, Richie Herbst)
Event: https://www.facebook.com/events/528890104297102/
Mars 5 – PADOVA, IT, @ Circolo Nadir
Event:https://www.facebook.com/events/2206240936137606
Mars 7 – GRAZ, AU, @ CAFE WOLF
Event: https://www.facebook.com/events/374343680065761/
Mars 8 – LINZ, AU, @ KAPU
Event: https://www.facebook.com/events/258082885121256
Mars 9 -> VIENNA, AU @ Rhiz Vienna / skug | Musikkultur
Event: https://www.facebook.com/events/330352017822328/
Mars 12 -> MÜNCHEN, DE, TAM TAM Kosmos
Event: https://www.facebook.com/events/1682665121833294/
Mars 13 ->STUTTGART, DE @ Neue Schachtel
Event: https://www.facebook.com/events/2318992238356004
Mars 14 -> STRASBOURG, FR, @ ERP d'Or http://zadriencoquart-pocztar.blogspot.com
Mars 15 – LUGANO, CH, @ SC8
Mars 16 -> LAUSANNE, CH, Association du Salopard / Le Bourg
https://www.facebook.com/events/279890746035804
Mars 17 -> LUZERN, CH @ Das Gelbe Haus http://gelbeshaus.ch
Mars 18 -> LEIPZIG, DE @ Ostaapotheke
Mars 20 -> BERLIN, DE, @ West Germany Venue / Metzger Therapie
(with VU, Laache and Izumi Yamamoto )
Event: https://www.facebook.com/events/2690136741026803/
Mars 22 -> HAMBURG, DE, @ Die Schute
Event: https://www.facebook.com/events/295198507838577
Mars 23 -> MALMÖ, SE Plan B – malmö
Event: https://www.facebook.com/events/506795673135393/
July 6, Bamberg, DE @Festival FK:K III
Event: https://www.facebook.com/events/467171063825920/
URL: https://www.franzkafkaverein.de/
July 10, Metz, DE @La Chaouée
Event: https://www.facebook.com/events/354966075141753/
July 12, , Normandie, FRA @ Chauffer Dans La Noirceur festival
Event: https://www.facebook.com/events/281179966090854/
URL: https://www.chaufferdanslanoirceur.org/
July 13, Rochesson, FRA, @ Rupture Mountain festival
Event: https://www.facebook.com/events/357294785059395/
July 15, Grandris, FRA, @ Librairie Compagnon (MAG)
Event: https://www.facebook.com/events/462516414598638/
July 16, Clermont-Ferrand, FRA, @L'Hôtel des Vil-E-S (MAG)
URL: http://hoteldesvil-e-s.blogspot.com/
July 18, Clabecq, BE, @Boot Tenace (MAG)
Event: https://www.facebook.com/events/2372835779651650/
July 19 Hamburg@ Central Congress (MAG)
Event: https://www.facebook.com/events/1551735891626914/
July 20, Kolding, DK, @ Det Gyldne Liv Festival (MAG)
Event: https://www.facebook.com/events/2483264655025933/
July 27, Österlen, SE @Gylleboverkets Performancefestival (MAG)
https://www.facebook.com/events/910641759267160/
Aug 3, Klagenfurt, AU, @Lendhafen https://www.lendhafen.at/ (MAG)
Aug 12, Dòbbia, IT @DobiaLab https://www.facebook.com/DobiaLabAreadiRicerca/(MAG)
Sept 21- AU, Vienna @ Phonofemme at ORF RadioKulturhaus (MAG)
Nov 9 – SE, Gerlesborg @ Gerlesborgsskolan (Facebookevent) (MAG)
Nov 14 – SE, Gothenburg @ Bra 10, Konstepidemien (Facebookevent) (MAG)
Nov 15 – SE, Gothenburg @ Truckstop Alaska (Facebookevent)(MAG)
Dec 13- SE, Gothenburg @Truckstop Alaska (facebookevent)( Sork)
2018
MAG var förband till Jenny Wilson på hennes turné och gjorde en Norrlandsturné tillsammans med amerikanska bandet the Bugs
Antal spelningar: 21st
Feb 4 – SE, Uppsala@Köttinspektionen "facebookevent" (MAG)
Feb 20- SE, Gothenburg@BRA10, Konstepedemien (MAG)
Mars 7 – SE, Gothenburg@Studio HPKSM(MAG)
Mars 8-NO, Oslo@BLÅ (MAG)
April 1 -SE, Stockholm @ Melodybox (MAG)
April 28 – SE, Malmö@Intonal (MAG)
May 3 – SE, Gothenburg@Pustervik, Opening for Jenny Wilson (MAG)
May 4 – SE, Gothenburg@Bengans, club Velvet (TRAPPED IN A LOOP)
May 11 – SE, Malmö@KB, support for Jenny Wilson (MAG)
May 26 – SE, Stockholm@Omnipollo hatt anniv and street takeover (MAG)
June 2 – NO, Oslo@BLÅ, Musikkfest (MAG)
June 23 – SE ,Skå, Sthlm-> Den Bästa Sommaren(MAG)
July 18 – SE, Ekerö/Sthlm at Rosenhill/Klubb Jabuka, "facebookevent(MAG)
July 19 – SE, Sundsvall, at Galleri Granen, "facebookevent" (MAG)
July 20 – SE, Skellefteå at Trästockfestivalen "facebookevent"(MAG)
Aug 10 – SE, Vadstena at Kulturföreningen Ugglan"facebookevent"(MAG)
Aug 11 – SE, Sunnemo at Sunnemoon festival (MAG)
Aug 12 – SE, Arvika, at Kolonin "facebookevent"(MAG)
Sept 14- SE, Västerås at Nya Perspektiv "facebookevent"(MAG)
Sept 27 – SE, Växjö at Italienska Palatset "facebookevent"(MAG)
Nov 13- SE, Gothenburg at Folkteatern (MAG)
2017
Trapped in a loop spelade på P2 s Artsbirthday.
MAG gör en turne i Holland, Belgien, Danmark, Frankrike tillsammans med franska artisten Sheik Anorak.
Sork släpper en singel på De: Nihil Records. Sork spelade på Jazz är Farligt på Liseberg.
MAG blev inbjuden av Thurston Moore från Sonic youth för att spela på hans festival Sonic city i Belgien och gjorde en turné i samband med det i Belgien.
Antal spelningar: 27 st
Jan 27 – SE, Stockholm, Södra teatern, Arts birthday (TRAPPED IN A LOOP)
March 21 – SE, Stockholm @ Pygméteatern, club: Kroch (MAG)
April 12 – SE, Stockholm @ LILLA BAREN, RICHE (SORK)
April 13 – SE, Örebro @ ROCK BAR (SORK)
April 14 – SE, Gothenburg @ Studio HPKSM, KLUBB 8 (SORK)
April 16 Fengerfors, @ Not Quite (MAG)
June 13 – NL, Amsterdam @ OCCII (w. The Space Lady) (MAG)
June 14 – BE, Gent @ In de Ruimte (MAG)
June 15 – FR, Lille @ CCL (MAG)
June 16 – NL, Nijmegen @ Extrapool (MAG)
June 17 – BE, Brussels @ La Tenace Boat (MAG)
June 18 – NL, Rotterdam @ Worm "facebook event" (MAG)
July 28 – SE, Uddebo@ MJÄLLBOFESTIVALEN, (SORK)
Aug 5 – DNK, Helsingör @Helsingør Festival(MAG)
Aug 16 – SE, Gothenburg@ JAZZ ÄR FARLIGT, LISEBERG (SORK)
Sept 8 – SE, Tivedstorp @ ELECTRIC MOON FEST(SORK)
Sept 9- NO, Oslo@Afterfest in KAFÉ HÆRVERK(MAG)
Sept 30- SE, Gothenburg @ Bokmassan "facebookevent"(MAG)
Okt 16 – SE, Gävle @ klubbfolk, Folkteatern Gävleborg (MAG)
Nov 9th – BE, Antwerpen @ Audio Plant(MAG)
Nov 11 – BE, Kortrijk @ Sonic City festival- Curated by Thurston Moore.(MAG)
Nov 13 – FRA, LILLE -> CCL "facebook event"(MAG)
Nov 14 – BE, Brussels @Les Ateliers Claus(MAG)
Nov 16 – BE, Aalst @ Amok facebookevent(MAG)
Nov 18 – BE, @Louvain-la-Neuve – La Ferme Festival (MAG)
Dec 13 – SE, Nässjö @ Sörängens folkhögskola, Kulturlunch (MAG)
Dec 15 – SE, Gothenburg @ club Hightime at Bengans (SORK)
2016
MAG fick fonogramstöd från Kulturrådet och släppte skivan MAGnitude på Lp och Cd på egna skivbolaget Surplus Recordings tillsammans med Zeon Light skiva. MAG gjorde även en turné i Finland, Estland och Litauen under våren och en turné i Frankrike och England under hösten tillsammans med franska artisten Sheik Anorak.

Antal spelningar: 35 st
Feb 26 – Aalborg, DK @ 1000 fryd (w Lydia Lunch/Retrovirus)(MAG)
March 12 – Gothenburg, SE@24kvm "facebook event" (TRAPPED IN A LOOP)
March 16- Stockholm, SE @ Rökridån " facebook event" (TRAPPED IN A LOOP)
March 18 – Umeå, SE @Littfest , Verkligheten (TRAPPED IN A LOOP)
April 1 – Gothenburg,SE @Studio Chanslös, Vårbaluns (MAG)April 7 – Jönköping, SE @ SM in Poetry Slam (MAG)
April 8- Helsinki, FIN @Luckans Veranda, Yrjönkatu 31(MAG)
April 9 – Tallin, EST @ MIM studio (MAG)
April 11 – Riga, LVA @ Chomsky Bar (MAG)
April 12 – Jelgava,LVA @ Melno Cepurīšu Balerija http://mcbalerija.com(MAG)April 14- Vilnius, LTU @ XI20 http://hardcore.lt "facebook event"(MAG)
April 15 -Kaunas, LTU @https://www.facebook.com/PuntoJazzPalepe (MAG)
April 16 – Valka, LVA @ 309 Cabinett (MAG)
April 27 – Gothenburg, SE @ klubb Jelinek@ Folk (MAG)
June 11 – Gävle, SE @Pushfestival (MAG)June 3 Gothenburg, SE @ Drömmarnas kaj (MAG)
June 17 – Gothenburg, SE @ Varholmsgatan 7, Skogsfesten+Algotfestivalen (MAG)July 16 – Skattungbyn, SE @ Inspirations festival (MAG)
July 30- Uppsala, SE, @Ransta festivalen, RANSTA TRÄDGÅRD (SORK)Aug 19 – Stockholm, SE @ Barnens Ö, festival Underbarelsen (MAG)
Aug 30- Gothenburg, SE @ Koloni, Skjul46 ( (TRAPPED IN A LOOP)
Oct 8- Lyon, FRA @ Gafferfest , www.facebook.com (MAG)
Oct 10 – Les Salles, FRA @ La Loutre (MAG)
Oct 11 – Paris, FRA @ Instants Chavires , facebookevent (MAG)Oct 13 – Brighton, UK @ Cafe Noor ,http://www.facebook.com/events/1090320064381615/ (MAG)
Oct 14 Liverpool ,UK @ DROPTheDumbullsGallery, facebook.com/event(MAG)
Oct 15 – Manchester, UK @ Islington Mill , events/rummage-orchestra-with-mag-and-shaman(MAG)Oct 16 – Glasgow, UK @ Sharmanka Kinetic Gallery, "Facebookevent" (MAG)
Oct 19 – Leeds, UK @ Warf Chambers , "Facebook event" (MAG)Oct 21 – London, UK @ The Peckham Pelican, "Facebook event" (MAG)Oct 22 – Colchester, UK @ Colchester Art Center , www.colchesterartscentre.com/events/ (MAG)Oct 23 – London, UK @ Café OTO https://www.facebook.com/events/775690002534543/ (MAG)
Nov 12 – Malmö, SE @ Koloni festival på Inkonst (MAG)
Nov 19 – Gothenburg, SE @ Oceanen, Releaseparty (MAG)
Dec 12 – Gothenburg, SE @ Sticky Fingers "facebook event" also Playing Viagra Boys (MAG)
2015
Trapped in a loop samarbetar med den japanska textil- och interaktionsdesignern Mika Satomi i projektet "Trapper" och får bidraget Pronto från Göteborgs Stad samt bidrag för internationellt kulturutbyte. Projektet "Trapper" gick ut på att utveckla ett musikinstrument med så kallade smarta textilier. Det hela blir en scenkostym/ klädesplagg kan kontrollera ljud och som sedan används i Trapped in a loops scenshow.
MAG sätter ihop MAGs Magnificent Marching Band bestående av en trombone och 6 slagverkare som spelar magtrumma ihopkopplat till elektroniska ljud. Performancen framfördes i Hallain i Österrike i September. MAG gör även en Norrlandsturné tillsammans med amerikanska artisten Powerdove.

Antal spelningar: 16 st
Jan 14 – Stockholm, SE @Lilla Hotellbaren, Fritz´s Corner(SORK)
Feb 7 -Stockholm,SE @ Disputationsfestivalen (MAG)
Feb 28 – Gothenburg,SE @ SMEDJAN, FILLER.(SORK)
Mars 31 – Gothenburg, SE @Doc lounge, Bengans (MAG)
April 23 – Gothenburg, SE@KOLONI, Oceanen (SORK)
May 1- Gothenburg, SE @ Jazzhuset, Growing Up in Public (MAG)
June 13 – Alvesta, SE @Psykjuntan, (SORK)
Sept 19 – Hallein, AUT@ Schmiede, (TRAPPED IN A LOOP)
Nov 6- Luleå, SE@Föreningsgatan 7 (MAG with Annie Lewandoski /Powerdowe(MAG)
Nov 7 – Boden, SE@ Havremagasinet MAG with Annie Lewandoski /Powerdowe (MAG)
Nov 11 – Haparanda, SE@Sverigefinska Folkhögskolan, Annie Lewandoski(MAG)
Nov 12 – Umeå, SE@Verket, facebookevent, with Annie Lewandoski/Powerdove(MAG)
Nov 13 – Klöse/Nordmaling, SE @Huset KF, with Annie Lewandoski/Powerdove(MAG)
Nov 14 -Piteå, SE – Studio Acusticum /Musikhögskolan, with Annie Lewandoski(MAG)
Nov 29 Jönköping, SE @ Tändsticksområdet. Event for Global Climate March (MAG)
Dec 19- Gothenburg, SE@24kvm, club Morricone (TRAPPED IN A LOOP)
2014
Sork släpper albumet Horseflies flies på LP och Cd på tyska bolaget Kapitän Platte och åker på turné till Danmark, Tyskland, Belgien.

Antal spelningar: 15st
Dec 5 – Gothenburg@ Smedjan, Releasefest "det Grymma Svärdet (MAG)
Nov 29 – Karlstad, SE @ Party Paradise, (TRAPPED IN A LOOP)
Nov 15 – Gothenburg, SE @TRUCKEN(SORK)
Oct 12 Aalborg, DK @ 1000fryd (SORK) (SORK)
Oct 11 – Bielefeld, DE @ Nr. z. P. Kapitän Platte fest(SORK)Oct 10 – Mannheim, DE @ Forum, Kapitän Platte fest(SORK)
Oct 8 – Halle, DE @Hühnermanhattan OMNI, (SORK)
July 23 – Jönköping, SE @ CYKELKÖKET (SORK)
May 23 – Copenhagen, DK @ KB18 kødboderne(SORK)
May 22 – Nijmegen, NL @ EXTRAPOOL (SORK)
May 21 – Bielefeld, DE @ Jz Falkendom (SORK)
May 19 – Lovain la Nueve @ Corps et logis (SORK)
May 18 – Duisburg, DE @ Djäzz Jazzkeller (SORK)
May 17 – Malmö, SE @Kontrapunkt, Getdaun, (SORK)
April 3 – Alingsås, SE @ Popsoaré, Konsthallen, kl 18. 30 ( MAG)
Jan 27 – Gothenburg, SE @ Folk Teatern, Trappan (MAG)
2013
12 spelningar i Sverige. Sork spelade in en skivan Horseflies Flies
Antal spelningar: 12 st
Nov 2- Gothenburg, SE @ Bengans, Stigbergstorget, Lyxbabian release party (MAG)
Okt 19 – Oslo, NO @ Etch Wear 20 Years Anniversary Festival at MIR (MAG)
Aug 23 – Malmö, SE @ GET DAUN/ KONTRAPUNKT, Västanforsg. 21 – (TRAPPED IN A LOOP)
July 20 – Ställberg, SE @Ställbergs gruva, DOPET festival – (TRAPPED IN A LOOP)
June 8 – Herrjunga, SE @ Privat party – (TRAPPED IN A LOOP)
June 1- Gothenburg, SE @ Skjul fyra sex/koloni – (TRAPPED IN A LOOP)
May 18 – Gothenburg, SE @ Studio Chanslös, Gårdaskolan, – (TRAPPED IN A LOOP)
April 26 – Malmö, SE@ KHM Gallery, Malmö Art Academy, Maiken Stenes exhibition – ( MAG)
April 6 – Hamburgsund, SE @ Kulturkalas i Ranrike, Gerlesborgsskolan- (SORK)
Mars 15 – Gothenburg, SE @Element studio, Brewhouse, Geiger, with RedRån – (MAG)
Mars 2 – Ask, SE @ GetDaun, Koloni, Kulturföreningen Akustik, – (TRAPPED IN A LOOP)
Feb 1 – Gothenburg, SE@ Gothenburg filmfestival, Clandestino, Pustervik – (SORK)
2012
Sork får verksamhetsbidrag för fria musikgrupper från kulturrådet samt gör turné i Spanien. MAG turnerar i Spanien och Portugal och Trapped in a loop gör en Spanien, Frankrike turné. MAG har residens i Lyon och samarbetar med amerikanska konstnären Juliacks http://www.juliacks.com och gör filmmusik till filmen och konstprojektet Architecture of an Atom. MAG får bidrag från Konstnärsnämnden för kulturellt utbyte.

Antal spelningar: 31 st
Dec 21 – Gothenburg, SE @ Jazzhuset, Vintersolståndsfest – (SORK)
Nov 25 – Gothenburg, SE @ Göteborgs konsthall, "facebook event" – (MAG)
Oct 31- Pontevedra, ESP @ Liceo Mutante – (SORK)
Oct 30 – Urretxu, ESP @ Gaztetxe or Gazteleku – (SORK)
Oct 28 – Barcelona, ESP @ Kasal de Roquets – (SORK)
Oct 26 – Valencia, ESP @ Instituto Francés de Valencia – (SORK)
Sept 8 – Gothenburg, SE @ Showdown, Henriksberg – (SORK)
Jul 4 – Gothenburg, SE @ Koloni, Kulturhuset Oceanen. (w. R. Stevie More) – (SORK)
June 5 – Gothenburg, SE @ Koloni at Oceanen, with the "Worlds Dirtiest Sport" – (MAG)
May 30 – Stockholm, SE @ Turteatern/Mother "Facebook event" – (TRAPPED IN A LOOP)
May 11 – Dahlsland, SE @ Skogsfesten, "Facebook event" – (MAG)
May 5 – Hamburg, DE @ Spring Pop Up Bauwagenfestival – (MAG)
April 28 – Gerlesborg, SE @ Gerlesborgskolan, "Facebookevent" – (TRAPPED IN A LOOP)April 7 – Gothenburg, SE @Truckstop Alaska, opening for "OM" – (MAG)
Mars 13 Gothenburg, SE @ House of Win- Win – (MAG)
Mars 10 – Gothenburg, SE @Koloni, Berg 211 – (TRAPPED IN A LOOP)
Mars 3 – Gothenburg, SE @ Showdown, Henriksberg – (SORK)
Feb 24 – Montijo, PRT @ Timilia das meias– (MAG)
Feb 23 – Lissabon, PRT @ Bartô, Zona Franca – (MAG)
Feb 22 – Madrid, ESP @-Taberna Alabanda – (MAG)
Feb 21 – Castellon, ESP @ Veneno Stereo – ­­(MAG)
Feb 20 – Zaragoza, ESP @ Bombo Y platillo­­ – (MAG)
Feb 18 – Barcelona, ESP @Freedonia – (TRAPPED IN A LOOP)
Feb 17 – Valencia, ESP @ La Caverna – (TRAPPED IN A LOOP)
Feb 16 – Madrid, ESP @ The Space Cadet – (TRAPPED IN A LOOP)
Feb 15 – Vitoria, ESP @ Ibu hots – (TRAPPED IN A LOOP)
Feb 14 – Toulouse, FRA @ Le Petit London – (TRAPPED IN A LOOP)
Feb 10 – Lyon, FRA @ Grrrnd Zero, l'atelier de Lisa , (with Hoquets). – (MAG)
Feb 4 – Santa Cruz, Teneriffe, ESP @ El Generado – "Facebook event" – (MAG)
Feb 3 – La Laguana, Teneriffe, ESP @ Aguere Espacio Cultural, With GAF "Facebook event" – (MAG)
Jan 14 Stockholm, SE, Arts birthday, Södra teatern – (SORK)
2011
MAG turnerar med Akes Rets i Polen och Tyskland.

Antal spelningar: 19 st
Nov 17 Gothenburg, SE @ Studio Chanslös, Gårdaskolan – (SORK)
Nov 24 – Uddevalla, SE @ Uddevallakassetten (w.Vialka) – (MAG)
Nov 23 – Oslo, NO @ Sound of Mu (w. Vialka) – (MAG)
Okt 22 – Gothenburg, SE @ Shake Rattle & Roll at Skjul Fyra Sex, (w. Destruction unit, J.C Satan, and Hills – (TRAPPED IN A LOOP)Aug 26 – Stockholm,SE @ Utflykten Barnens ö – (SORK)
Aug 25 – Nyköping, SE @ Propellerteatern, Bryggeriet – (SORK)
Aug 9 – Malmö, SE @ Galleri Krets. (w.Akes Rets) – (MAG)
Aug 2 – Posnan, PL, @ Café Miesna (w. Akes Rets) – (MAG)
Aug 1 – Wroclaw, PL @ Galeria U, (w. Akes Rets) – (MAG)
Jul 30 – Berlin, DE @ Bar Weser strasse 58, (w. Akes Rets) – (MAG)
Jul 29 – Hamburg, DE @ Ms Stubnitz (w. Akes Rets)- (MAG)
Jul 28 – Hamburg, DE @ Dockville festival – (MAG)
Jul 26 – Göteborg, SE @ Gårdaskolan. (w. Akes Rets) – (MAG)
Jun 3 – Copenhagen. DK @ Copenhagen Distortion festival, Sort Kaffe & Vinyl – (SORK)
Jun 2 – Hammenhög, SE @ Garageprojektet – (SORK)
May 26 – Stockholm, SE @ Högkvarteret, In the Akt, – (MAG)
May 7 – Gothenburg, SE @ Hux flux, Aktör och Vänner – (MAG)
April 29 – Gothenburg, SE @ Förstamajfestivalen, Underjorden – (SORK)
Jan 8 – Gothenburg, SE @ Gårdaskolan, "Facebook event" – (SORK)
2010
Trapped in a loop släppte 10" vinyl på Finska Aanen Lumo- Festival för New sound och gör workshops i experimentell pop musik och ljud workshop ute i olika skolor Kultur i västs regi mellan åren 2010-2012.

Antal spelningar: 25 st
Nov 19 – Gothenburg, SE @ Koloni, Gårdaskolan (w. Screaming Females) – (TRAPPED IN A LOOP)
Nov 13 – Helsinki, FI @ Äänen Lumo festival, Kokoteatteri- (TRAPPED IN A LOOP)Nov 10 – Karlskrona, SE @ Karlskrona konsthall, Salongen, Djuret – (TRAPPED IN A LOOP)
Nov 7 – Gothenburg, SE @ Ljudmatiné, Atalante – (TRAPPED IN A LOOP)
Okt 23 – Malmö, SE @ Singsang studion. Get Daun/Koloni (w.Legendary pink dots) – (MAG)
Sept 18 – Göteborg, SE @ Korken, Musikenshus – (MAG)
Sept 7 – Göteborg, SE @ Gnutiken – (MAG)
Aug 2 – Eksjö, SE @ Krusakultur – (MAG)
Jul 31 – Ransbysätern, Värmland, SE @ Utmarksmusiken – (MAG)
Jul 23 – Gagnef, SE @ Gagnef festival – (MAG)
Jul 10- Åby torp/Svartå, SE @ Paradise Festival – (MAG)
May 27 – Hamburg, DE @ Sweet home café – (MAG)
May 26 – Hamburg, DE @ Mobile blues club – (MAG)
May 24 – Berlin, DE @ West Germany (w. Sic Alps) – (MAG)
May 21 – Malmö, SE @ Krets (w. Ora Cogan)- (MAG)
May 20 – Göteborg, SE @ Koloni, Skjul 46 (w. Sic Alps) – (MAG)
May 19 – Stockholm, SE @ MOTHER, Södra Teatern, (w. Ora Cogan) – (MAG)
May 18 – Linköping, @ Passagen (w. Ora Cogan)- (MAG)
May 16 – Kopenhaven, DK @Lades (w. Ora Cogan)- (MAG)
May 15 – Helsingör, Elverket – (MAG)
April 24 – Roskilde, DK @ Sound festival, Museum of Contemporary Art, "Facebook event" – (MAG)
Mars 27 – Gothenburg, SE @ Music Doc – (SORK)
Mars 20 – Gothenburg, SE @ Truckstop Alaska, Koloni – (SORK)
Jan 9 – Stockholm, SE @MOTHER, Landet – (SORK)
Jan 8 – Gothenburg, SE @ Egalia – (SORK)
2009:
Sork släpper en split LP med Surplus People. MAG gör en turné i Usa och Kanada, spelar på Art's birthday, Samt gör en Sverige turné med kanadensiska artisten, Ora Cogan.

Antal spelningar: 25 st
Okt 17 – Göteborg, SE @ Galleri Oro, Koloni, (w Cave och Vialka) – (MAG)
Okt 3 – Östersund, SE @ Färgfabriken – (MAG)
Sept 26 – Gothenburg, SE @ Felparkerad, Gårdaskolan – (SORK)
Sept 20 – Köpenhamn, DK @ Alt Cph – (MAG)
Sept 19 – Malmö, SE @ Queer base, Moriskan (w kids on the ranch) – (MAG)
Sept 11 – Gothenburg, SE @ Uppåt Framåt, Sound of music/koloni – (SORK)
Aug 14 – Stockholm, SE @ Färgfabriken, OSC – (MAG)
Aug 12 – Stockholm, SE @ Rah Rah Replica, Landet – (MAG)
Aug 6 – Anacortes, US @ Department of Safety – (MAG)
Jul 28 – Vancouver, CAN @ Fake Jazz Wednesday, the Cobolt – (MAG)
Jul 24 – Olympia, US @ Northern, w. Arrington de Dionyso – (MAG)
Jul 23 – Portland, US @ Worksound Gallery – (MAG)
Jul 16 – San Francisco, US @ the Lab, Mission Creek festival – (MAG)
Jul 4 – Göteborg, SE @ House of Win-Win – (MAG)
May 30/5 – Uppsala, SE @ Ungdomenshus – (w. Ora Cogan) (MAG)
May 26 – Visby, Gotland, SE @ Ungdomenshus/Fenix (w. Ora Cogan)- (MAG)
May 25 – Stockholm, SE @ MOTHER, Landet, (w. Ora Cogan)- "Facebook event" – (MAG)
May 23 – Malmö, SE @ Galleri Krets – (MAG)
May 22 – Copenhagen,DK @ The Festival of endless gratitude – (MAG)
May 7 – Gothenburg, SE @ Pustervik, Koloni "Om Norden" – (SORK)
April 18 – Gerleborg, SE @ Gerleborgskolan – (MAG)
April 5 – Gothenburg, SE @ Utmarken, – (MAG)
Mars 27 – Stockholm, SE @ Rah! Rah! Replica, Judys – (MAG)
Mars 21 – Gothenburg, SE @ HAKET, club I DANCE ALoNE "Facebook event"– (MAG)
Jan 16 – Stockholm, SE @ Arts birthday SR P2, Södra Teatern – (MAG)
2008
Antal spelningar: 28 st
Dec 20 – Stockholm, SE @ Teater Scenario, Mother/Koloni – (SORK)
Dec 14 – Gothenburg, SE @ Danmarks finaste kolibri – (MAG)
Dec 13 – Gothenburg, SE @ Christmas Party in Gårda – (MAG)
Dec 12 – Gothenburg, SE @ Nerves and Ladyfest, Henriksberg – (SORK)
Nov 30 – Copenhagen, DK @ Vega/ideal – (MAG)
Nov 29 – Copenhagen, DK @ DameUlove, Warehouse 9, – (MAG)
Nov 17 – Gothenburg, SE @ Atalante – (MAG)
Nov 7 – Gothenburg, SE @ Gbg Energi festival, Röda Sten, (w. Lighting Bolt, Tsukimono, Skull Defekts) – (MAG)
Okt 10 – Gothenburg, SE @ KKV, – (MAG)
Okt 4 – Gothenburg, SE @ Spotcity – (MAG)
Sept 20 – Stockholm, SE @ MOTHER, Landet,Telefonplan – (MAG)
Aug 13 – Gothenburg, SE @ Oceanen – (MAG)
May 30 – Gothenburg, SE @ Galleri Oro – (MAG)
May 24 – Gothenburg, SE @ KKV – (SORK)
April 14 – Gothenburg, SE @AFK (w.wildbirds and Peacedrums) – (MAG)
Mars 1 – Gothenburg, SE @ Sticky Fingers with Trumans Water – (MAG)
Feb 29 – Gothenburg, SE @ Koloni, Berg 211 – (MAG)
Jan 20 – Gothenburg, SE @Fabriken "Andra Sidan" – (SORK)