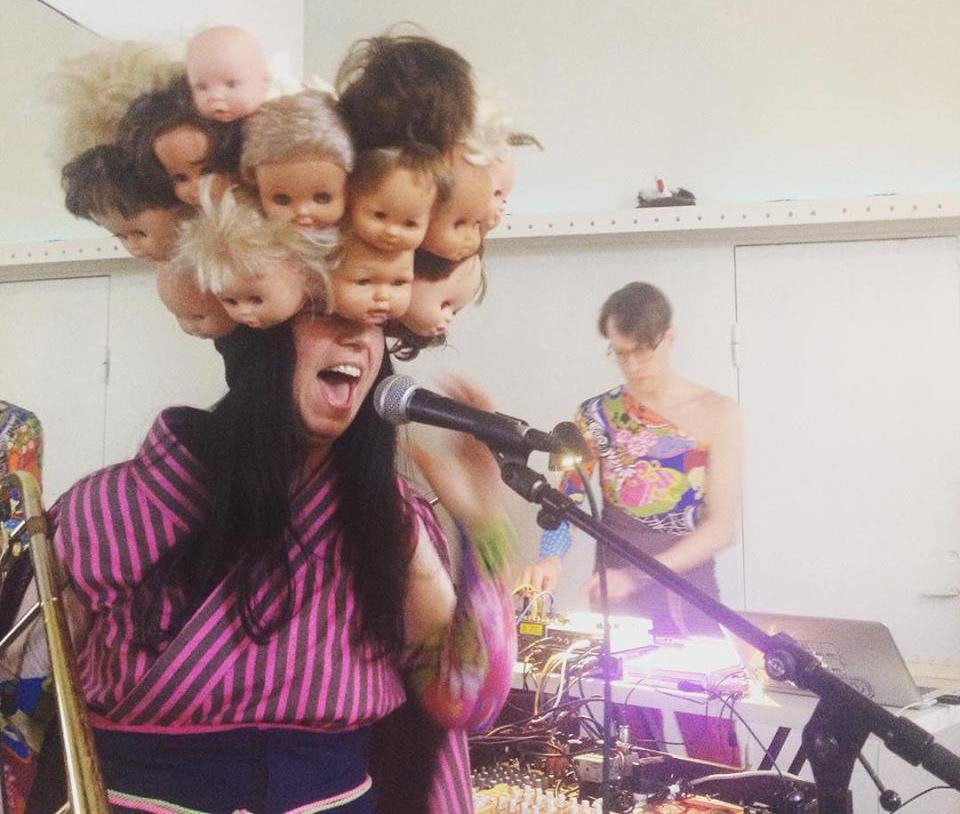 TRAPPED IN A LOOP
Trapped in a Loop is the duo of Magdalena Ågren and Richard Widerberg from Gothenburg, Sweden. They are musicians without any regard to code of conduct. Using trombone, guitar, vocals, field recordings and various other instruments, they create energetic pop songs built up by loops.
The band is currently working in a collaboration with textile and interaction designer Mika Satomi. The project aims to develop a new instrument with the help of smart textiles in the form of a Costume that will be used in "Trapped in a loops music".
Thank you very much Konstnärsnämdnen and Göteborgs Stad for financial support of the project Trapper !
Upcoming Shows 2017


———-

Releases
Echo/Joinus EP

" I was highly surprised by these two releases. Since my youth I have been a great lover of music like The Ex, Dog Faced Hermans and so on. Trapped in a Loop is a band which refers a lot to these bands. The band exists of Magdalena Agren and Richard Widerberg. The duo uses guitar, drumcomputer, trombone, field recordings and trombone and the two songs are really uptempo and the use of loops makes the music hypnotic and two times the duo creates a climax. Great music, nevertheless just two songs. An admirable release"
– Frans de Waard, Vital Weekly
"Got a couple of songs by the Goteborg duo Trapped In A Loop on another promo item. The first one 'Echo' is quite delicious, an odd combination of a basic drum-machine beat, jangly 1986-shambling rock styled guitars, heavenly stacked female vocals, and a trombone. For over six minutes the team wisely decide stay in the same place and offer little variation on this thrummingly upbeat and narcotic oddity, apart from the loopy scat vocals fed through a telephone receiver which appear in the middle of the song. That same distortion device appears on the second song 'Joinus', where the singer transmits odd details from her private snow-bound world with much more grace and charm than I've ever heard on a Bjork record. Here, the layered trombones are just magnificent – a strange mix of triumphant brass-band parping with doodly, improvised scrabbling. It's a real charmer.  "
– Ed Pinsent, The Sound projector
Listen


More videos
Live @ Truckstop Alaska 27/05/2016
Live @ Morricone, 24kvm 19/12-2015 set2
Live @ Morricone, 24kvm 19/12-2015 set 1
Live @ Ställbergs gruva 20/07/2013
Live @ Skjul Fyra Sex 22/10/2011
Live @ "Ljudmatiné", Atalante 07/11/2010
Trapped in a loop at Lahälla studios 2010
Images
Echo/Joinus high res image
Past shows
27/1 – 17 Stockholm, Södra teatern, Arts birthday
30/8 -16 Gothenburg, Koloni, Skjul 46
27/5 – 16 Gothenburg SE@ Truckstop Alaska
18/3 – 16 Umeå@Littfest  , Verkligheten
16/3 – 16 Stockholm, SE @ Rökridån " facebook event"
12/3 – 16  Gothenburg, SE@24kvm  "facebook event"
19/12 -15  Gothenburg, SE@24kvm, club Morricone
19/9-15 Hallein, AUT@ Schmiede
29/11-14 Karlstad, SE@Party Paradise,
23/8 – 13 Malmö, SE @ GET DAUN/ KONTRAPUNKT, Västanforsg. 21
20/7 -13 Ställbergs gruva @ DOPET festival
8/6 -13 Herrjunga @ Privat party
1/6 -13  Gothenburg @ Skjul fyra sex/koloni  "facebook event"
18/5 Gothenburg @ Studio Chanslös, "facebook event"
2/3-13 Ask @ Kulturföreningen Akustik.    "facebook event"
30/5 -12 Stockholm, @ Turteatern/Mother "facebook event"
5/5- 12  Hamburg @ Spring Pop Up Bauwagenfestival
28/4-12 Gerlesborg @ Gerlesborgskolan,
http://www.facebook.com/events/312614138810804/
10/3-12 Gothenburg, Koloni, Berg 211
18/2 -12   Barcelona, Spain @ Freedonia
17/2 Valencia, Spain @ La Caverna
16/2 Madrid, Spain  @ The Space Cadet
15/2 Vitoria,  Spain @ Ibu hots
14/2-12 Toulouse France  @ Le Petit London
22/10-11 Gothenburg, Shake Rattle & Roll at Skjul Fyra Sex, (w. Destruction unit, J.C Satan, and Hills
19/11-10 Sweden, Gothenburg,  Koloni, Gårdaskolan (w. Screaming Females)
13/11- 10 Finland, Helsinki, Äänen Lumo festival, Kokoteatteri Helsinki.
10/11-10 Sweden, Karlskrona konsthall, Salongen, Djuret
7/11-10 Sweden, Gothenburg, Ljudmatiné at  Atalante